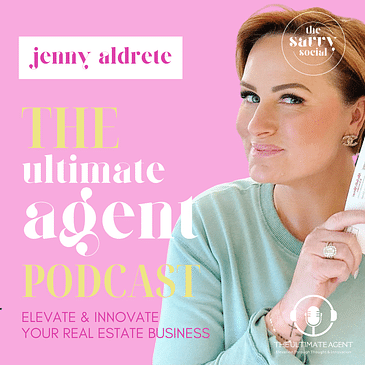 The Ultimate Agent
Hosted by Jenny and Jorge Aldrete, the Ultimate Agent Podcast brings real estate agents together to elevate each other and the industry! Learn from experts in the industry, top producers, every day agents, and social media experts!
Be a Guest on the Show
Want to participate in the podcast as a guest? Have a question you can't wait to hear us talk about or want to share anything with our listeners?

Record you voice message below and we may use it on the show!
Podcast Episodes
Just listen to one episode, you'll come back for more!
Who We Are
Just a couple of hard-working entrepreneurs and business owners.
Jenny Aldrete
Jenny has the great privilege of continually connecting with, and working closely with, agents across the state of Texas to understand their unique needs and goals. This unique position enables her to assistance agents in implementing effective strategies to grow their business.
As one of the leaders of the Luxe Mortgage Team, Jenny's extensive knowledge of the local real estate market and her ability to connect agents with the right resources and support, has helped many realtors to close more deals and rapidly grow their business.
When she is not busy interviewing agents, Jenny enjoys spending time with her family and friends, traveling, and exploring new places.
CO-HOST
Jorge Aldrete
Jorge Aldrete graduated from Baylor University in 2000. Jorge has over 17 years of comprehensive mortgage brokering & banking experience. His relentless pursuit of best-in-class service and direct application of his extensive industry knowledge sets him apart from his contemporaries. His work ethic and sense of urgency enable him to consistently provide flawless service and dependability on every transaction.

Jorge's passion for the business and competitive spirit pre-dates his exposure to the mortgage industry. He demonstrated his competitiveness as a four year collegiate tennis player, ending his tennis career at Baylor University. His passion, most notably, is dedicated to his wife Jenny and their 3 children Isabella, JD, and Maximo.

We're On Instagram
Instagram account not connected.